ArtSlam18+ is scheduled for April 12 beginning at 5:30pm, details to follow in 2018.
2018 Season: ArtSlam18 CALL FOR ARTISTS
A Juried Exhibit Presented by Friends of Art
A nonprofit group that provides scholarships and awards for University of Nebraska Omaha fine art students. Helping art students to be better artists.
A CALL for New and Emerging artists 19+ years old to showcase their work with a brief talk and slide presentation, an art raffle for patrons, and an opportunity for artists to sell their work.
WHAT YOU RECEIVE FOR PARTICIPATING: 1. The opportunity to present and sell YOURSELF, your ART and your PHILOSOPHY to an art-loving group of patrons. 2. A great experience talking about yourself and your work, an important skill for successful artists. 3. You will receive exposure of yourself and artworks. 4. You will have a chance for feedback and to network with patrons and other artists. 5. An opportunity to sell your artwork. 6. And a chance to WIN PRIZES!
WHEN: Thursday, April 12, 2018
WHERE: Bancroft Street Market, 2702 S. 10th Street (10th & Bancroft)
WHAT IS ArtSlam18: Up to TEN ARTISTS will each have four minutes to make a presentation to the art-loving audience discussing themselves, their artwork, inspirations, methods, and future direction. Presentations may include PowerPoint or individual digital slides. After the presentations the audience will select the winners by voting for their favorite artist and artwork with raffle tickets. Winners announced and prizes awarded after voting.
PRIZES: 1st: $300; 2nd: $150; 3rd: $75 + Additional Art Related Prizes
REQUIRMENTS: Artists are required to provide two or three pieces of art. One will be used as a donation for a raffle and the artists may sell the other(s). The size of the artwork must be reasonable, a maximum of about four feet. For any piece an artist sells they will receive the entire purchase amount. These should be great works with retail values between $300 and $1500. The selection committee will determine which artwork will be for sale and which to use for the raffle.
------------------------------------------------------------------------------------------------------------
TO APPLY and MORE INFO: Send an e-mail to ENTRY@foaomaha.org for details. Include: Your name, a phone number and your e-mail address. Information may also be found at www.foaomaha.org

Download the Call For Entries flyer
Past Programs / 2015 Season: ARTSLAM+
with Guest Host Bart Vargas! A Fundraiser for UNO Art Student Scholarships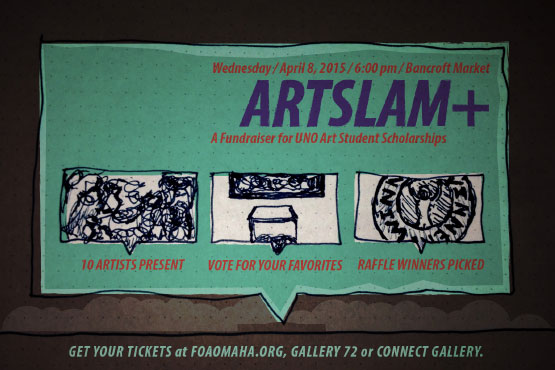 When: April 8, 2015 / 6-9pm
Where: Bancroft St. Market - 2702 S.10th St.

Schedule
Preview Reception begins at 5:30 pm

Talks Begin 7 pm

Winners Announced 8:45 pm
Ten emerging visual artists have four minutes each to wow you with their work. Their inspirations, techniques, backgrounds, and future directions are laid at your feet for your vote in their favor. You are the judge.
Drop your raffle tickets in your favorite artist's bowl, then stand by for a chance to win their featured work. Plus, your vote helps them be a contender for generous prizes. You can also purchase artwork from other presenters.
Admission: $20 (includes five raffle tickets)
The artists: Adam Dienst-Scott, Cangshu Gran, Kristine Hansen-Cain, Darcy Horn, Courtney Kenny Porto, Reggie LeFlore, Brian Joseph Tait, Mike Trotter, Adam Burke, Travis Apel.